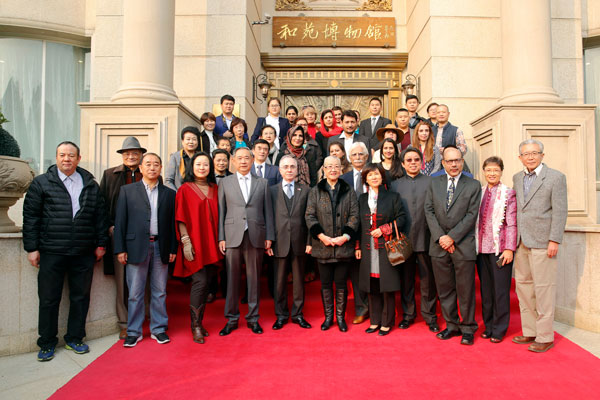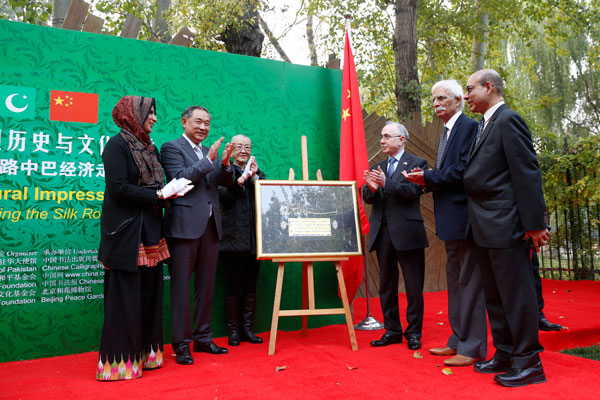 On November 6th, Historical and Cultural Impressions of Pakistan art exhibition was formally organized at Beijing Peace Garden Museum. Pakistani Ambassador to China Masood Khalid, Honorary Consultant of Pakistani Government and President of China World Peace Foundation Li Ruohong, Vice Chairman of China-Pakistan Friendship Association and Chairman of China Huaxia Cultural Heritage Foundation Madam Ge Ying, President of Chinese Calligraphy Newspaper Li Shijun as well as 120 guests representing governments, social organizations, art associations and enterprises attended the event.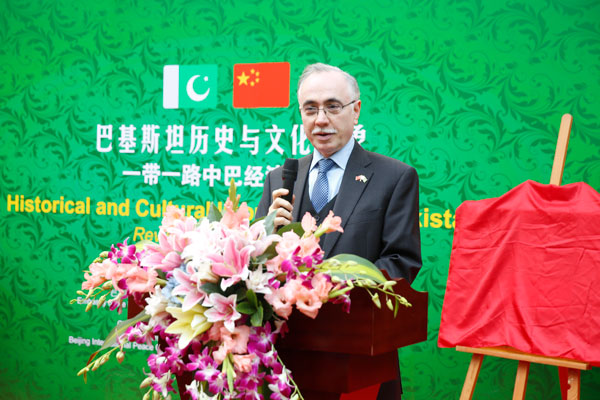 At the opening ceremony, Ambassador Masood Khalid introduces the 8-member delegation headed by Farrah Mahmood, a distinguished painter. In his speech, the Ambassador reviews how China and Pakistan, with different languages, cultures and customs, established fraternity and an all-weather friendship, thus presenting a textbook example in front of the whole world.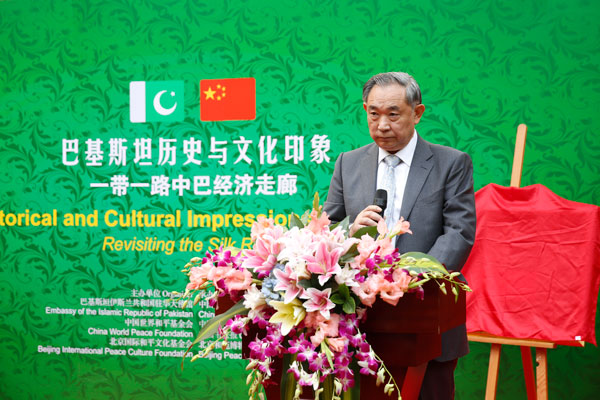 President Li Ruohong says in his address that the Peace Garden Museum, a garden-style international outlet, is devoted to promoting cross-cultural cooperation, boosting cultural confidence and facilitating connectivity between China and Pakistan. The two art exhibitions jointly organized by China World Peace Foundation and the Embassy of Pakistan in Beijing this year have extensive influence across the international community by presenting a classic example of cooperation in politics and economy between the two countries. The Belt and Road China-Pakistan Cultural Corridor we launched today, while symbolizing a deepening friendly ties between us, will also usher in a new era. The charisma of culture and art and the cooperation between the artists will contribute to world peace; it will also serve as reflection the Peace Garden Declaration we released here in the past June along with UNESCO when we officially initiated an interactive culture atlas of cultural interactions along the Silk Roads.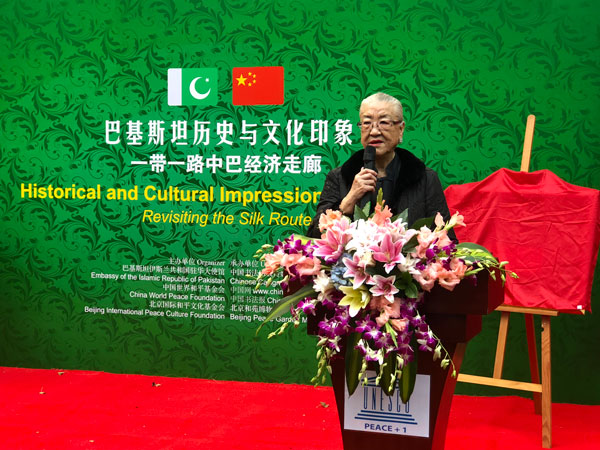 Madam Ge Ying relates her touching story of a bamboo planted by her father Ge Biao, the former Chinese premier, in an effort to laud the development of friendship between China and Pakistan. She says: all of us shall contribute our strength and wisdom to make it a successful cultural party, and we believe the China-Pakistan Cultural Corridor will be much better after five years or a decade of endeavor.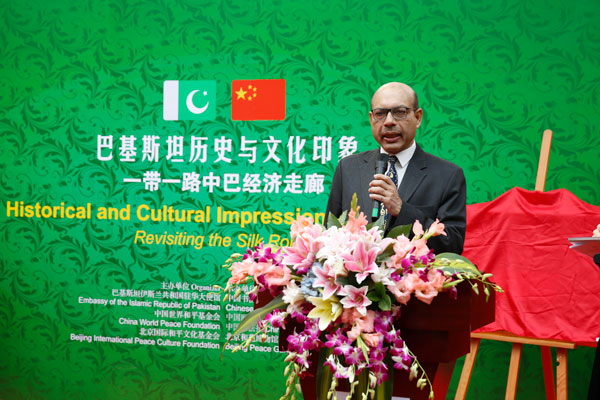 Tanvir Jafri, Incharge China Study Center of Institute of Information Technology of COMSATS, says today the two countries witness the birth of a cultural corridor, a milestone of artistic cooperation between the two countries, so that we can expect for a more diversified art forms. He also advocates for a closer cooperation between China World Peace Foundation and the Embassy of the Islamic Republic of Pakistan in order to embrace more artists from both sides.
At the ceremony, Pakistani artists Farrah Mahmood, Nasir Khan Seemab and Chinese painter He Yongfu give their works to President Li as a gesture to support the China-Pakistan Cultural Corridor public welfare activity.
80 works from Chinese distinguished artists Geng Ying, Li Shijun, Wu Shimin, He Yongfu, Yang Qingyun, Jia Chang, Wu Chuanhuai, Zhao Yang, Wang Zichen and Wang Xiaochen were also displayed in the exhibition. Artists from both sides exchanged views on painting and calligraphy and jointly created several works during the event.
Mutual confidence in culture serves as foundation for economic cooperation. The development of cultural corridor provides an important opportunity for pushing forward the Belt and Road Initiative; it will help deepen the culture connectivity and prosperity between the two peoples.
The exhibition, co-organized by the Embassy of the Islamic Republic of Pakistan, China World Peace Foundation and Beijing International Peace Culture Foundation, is undertaken by China Calligraphy Publishing Media Group, www.China.org.cn, Chinese Calligraphy Newspaper and Beijing Peace Garden Museum.